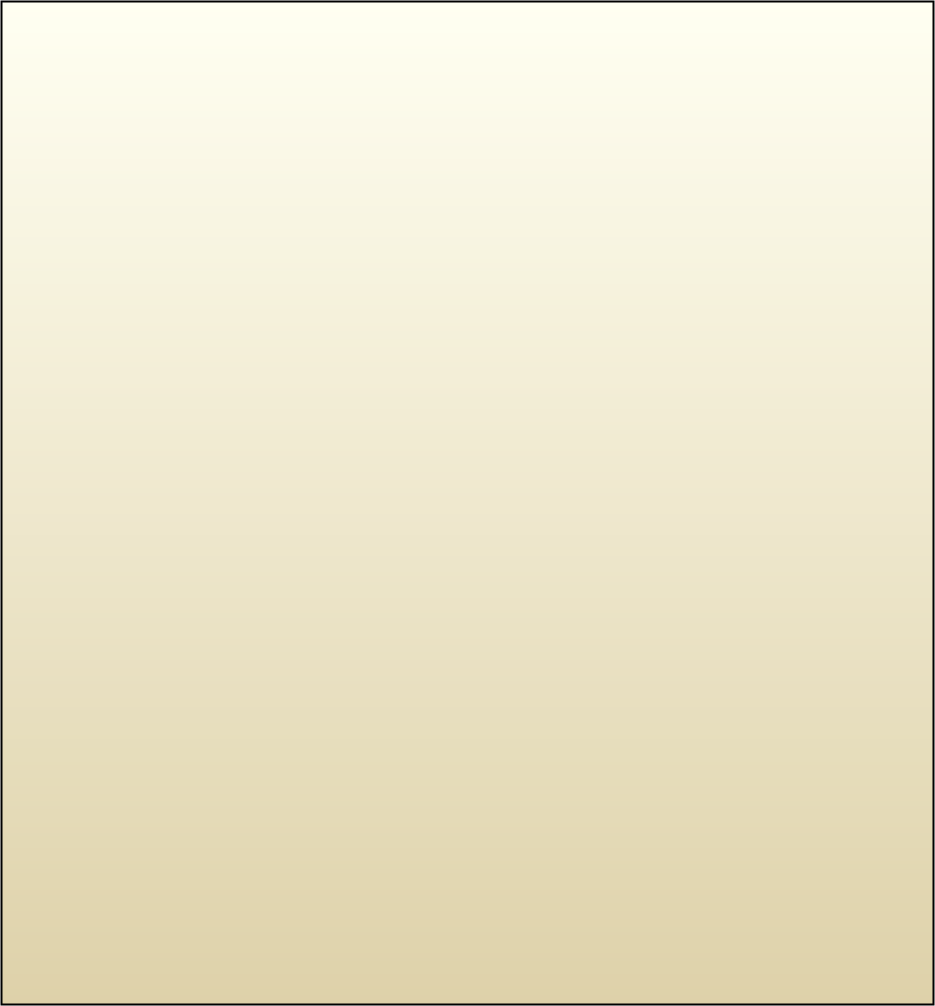 Blackberry Upside-Down Cake

Serves 8 | Hands-On Time: 15m | Total Time: 1hr 5m

Ingredients

Blackberry Topping (see recipe below)
1 cup all-purpose flour
3/4 cup granulated sugar
1 1/2 teaspoons baking powder
1/4 teaspoon salt
1 egg, room temperature
1/2 cup milk
1/4 cup butter, room temperature
1/4 teaspoon grated lemon zest
1 teaspoon freshly-squeezed lemon juice
1 teaspoon pure vanilla extract

Directions

1.) Preheat oven to 350 degrees F.

2.) Prepare Blackberry Topping (see below); set aside.

3.) In a large bowl, combine flour, sugar, baking powder, and salt. Add egg, milk, and butter; beat 2 minutes. Add lemon zest, lemon juice, and vanilla extract; beat 2 minutes. Pour over blackberries in frying pan, spreading evenly.

4.) Bake 40 to 50 minutes or until a toothpick inserted in center comes out clean. Remove from oven and cool 5 minutes on a wire rack.

5.) Run knife around edge of pan to loosen; cover with a cake plate and invert. Serve warm.

Blackberry Topping

1/4 cup butter
1/2 cup firmly-packed brown sugar
1 1/2 teaspoon grated lemon zest
1/4 chopped nuts
3 cups fresh blackberries
In a 10-inch cast-iron frying pan or a 9x2-inch round cake pan over low heat, melt butter. Stir in brown sugar until blended. Remove from heat.
Sprinkle lemon zest over the brown sugar. Sprinkle chopped nuts over the top. Arrange the blackberries in an even layer over the nuts; set aside.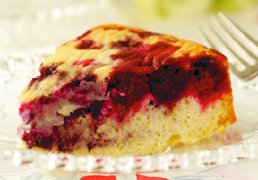 Blackberry Cobbler

Serves 8 | Hands-On Time: 25m | Total Time: 1hr 20m

Ingredients

2 1/2 cups fresh blackberries
1 cup sugar
1 cup all-purpose flour
2 teaspoons baking powder
1/2 teaspoon salt
1 cup milk
1/2 cup butter, melted


Directions

1.) In medium bowl, stir together blackberries and sugar. Let stand about 20 minutes or until fruit syrup forms. Heat oven to 375°F.

2.) In large bowl, stir together flour, baking powder, salt and milk. Stir in melted butter until blended. Spread in ungreased 8-inch square pan. Spoon blackberry mixture over batter.

3.) Bake 45 to 55 minutes or until dough rises and is golden. Serve warm with cream.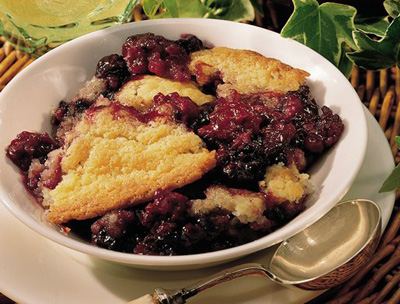 Blackberry Jam

Makes 4 jars | Hands-On Time: 20m | Total Time: 30m

Ingredients

3 cups blackberries
4 cups sugar
1 oz. dry pectin

Directions

1.) Carefully measure out berries and
put them into a very large pot. Carefully
measure sugar in a large bowl.

2.) Add the pectin to the berries a little at a time, stirring constantly. Heat on high, stirring constantly, until the mixture comes to a full boil.

3.) Add sugar all at once while stirring. Bring mixture back to a full hard boil, stirring constantly. Boil for 1 minute.

4.) Remove from heat and transfer to sterilized, hot 8 ounce jars, leaving 1/4" at the top. Put lids on and process in a boiling water bath for 10 minutes.